The vineyards
what makes us unique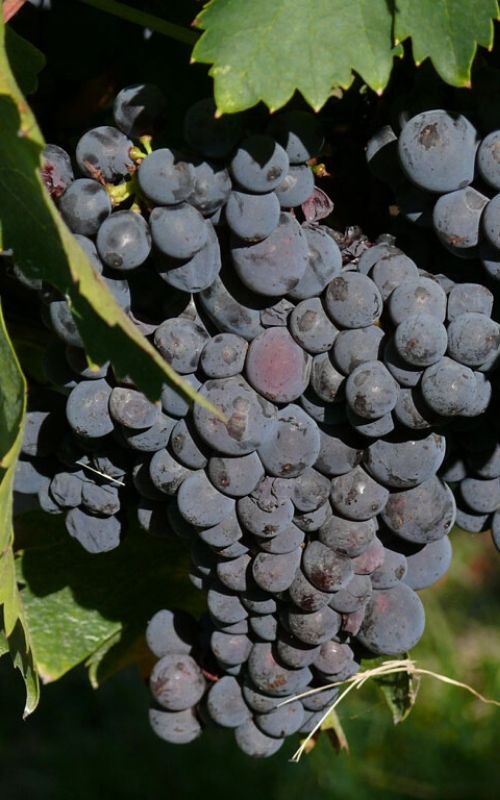 Sagrantino
Most of our vine-planted fields host the undisputed protagonist of Montefalco's wine production, Sagrantino, which has been grown here since the Middle Ages: the first evidences found date back to 1100, and there are two different theories about its origin. The first believes it has arrived to Umbria from Asia Minor, thanks to Franciscan monks. According to the second, it has Greek origins, and it has been imported by Byzantine friars. In any case, the history of Sagrantino is interwoven with the importance of religious communities in Umbria and it seems that also the name refers to its sacred use during religious functions. The most widespread Sagrantino is nowadays the dry version, even if traditionally it was produced as a sweet wine, used domestically for celebrations as well as in churches, and still included in the DOCG Montefalco Sagrantino.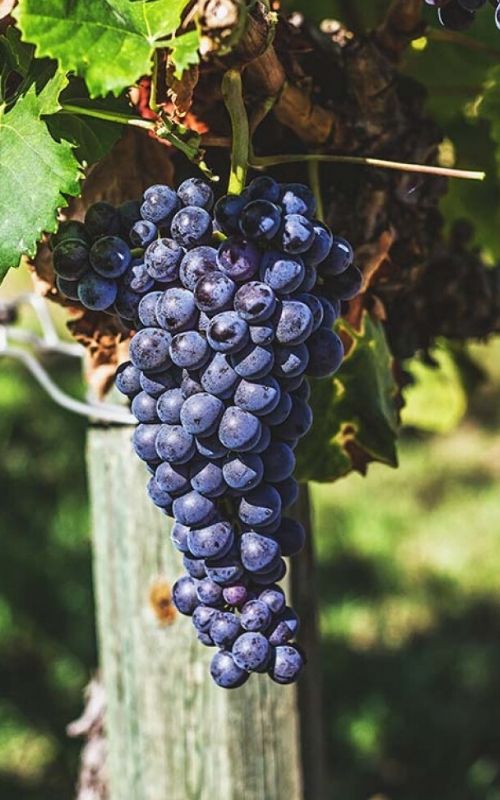 Sangiovese
Within the native species, there is also Sangiovese: a black-grape vine variety common in Italy, with ancient origins. We know it as such since 1500, but this variety's origins are probably Etruscan. The name Sangiovese, whose derivation is still uncertain, defines a great number of biotypes in which the vine has differentiated itself in time, adjusting to the different terroirs. Its role is very important in Umbria, where is one of the most representative reds; we find it for example in Giulio II, our Montefalco Red, or as single-variety vinification in Ma Rose, Le Thadee's rosé.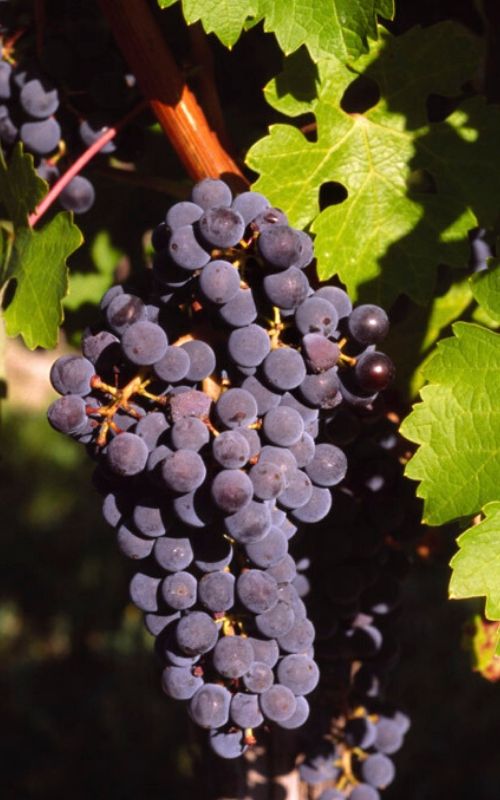 Cabernet Sauvignon
In our vineyards, we find among the others also Cabernet Sauvignon, one of the most widely cultivated vine varieties in the world. Especially suitable to produce wines of great quality and notable longevity, it is often used in blends. Cabernet Sauvignon has a great adaptability to the most diverse climate conditions and winemaking techniques: maintaining its recognisability, it manages at the same time to express the characteristics of the terroir, focal point of Le Thadee's production.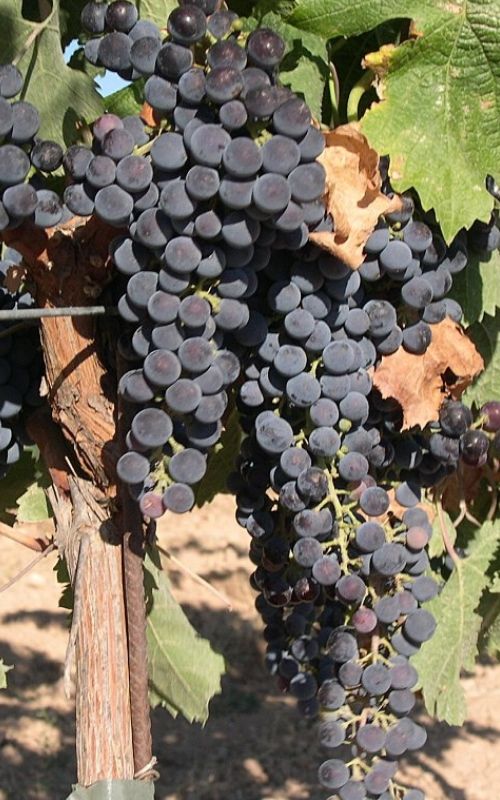 Merlot
A small yet important component of our production comes from Merlot vines. Another black-grape variety, it is the second most widespread variety in the world after Cabernet Sauvignon. Cultivated all across the continents, it finds its most suitable environment in mild climates, where it gives elegant wines. Its name comes from "merlo" (blackbird), a great enthusiast of its berries' sugar richness, due to the early ripening.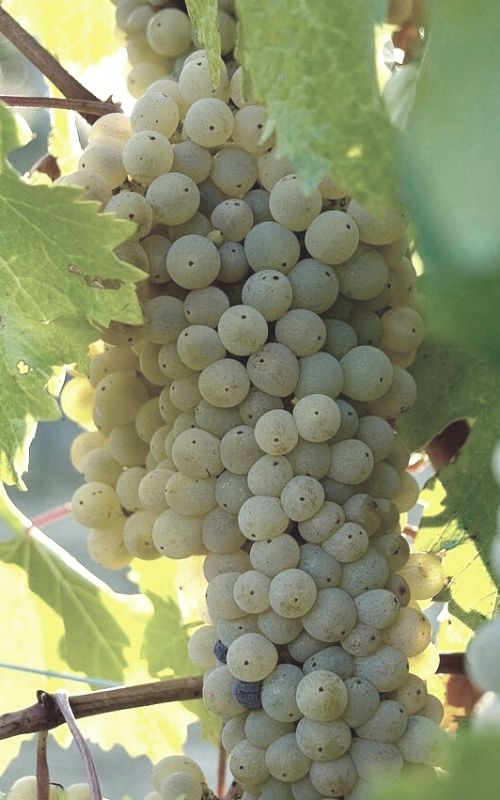 Grechetto
In the matter of white grapes, both species found in Le Thadee's vineyards are native to Umbria: Grechetto and Trebbiano Spoletino. The Grechetto probably has Greek origins: the term "Greco" or "Grechetto" was used in the past to indicate white grape varieties with a common diffusion route through Italy from Magna Graecia, even though they had diverse characteristics. It is considered native to Umbria or more extensively to Central Italy.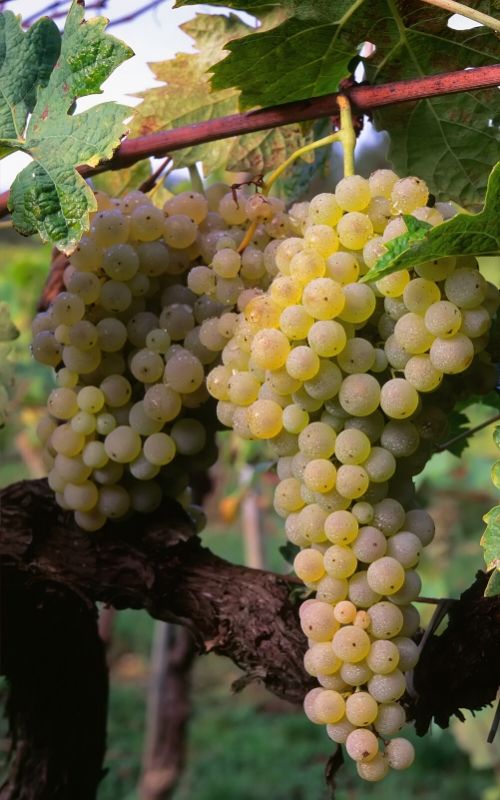 Trebbiano Spoletino
Trebbiano Spoletino, another vine variety native to Umbria, does not present any affinity to others Trebbiano varieties diffused in Central Italy, if not in the name, which in this case seems to derivate from the city of Trevi, near Spoleto, in the province of Perugia. Trebbiano Spoletino is an ancient grape varietal, which has been on the verge of extinction. Its rediscovery happened around ten years ago, thanks to the newly found attention to the native varieties of the different winemaking regions. Vine variety historically present in the area of Spoleto and Montefalco, it is found in the fields of Le Thadee in the precious and extremely rare form of trained-up-elm vines, which was the traditional cultivation technique of past centuries, miraculously spared from the devastating plague of Phylloxera, which has destroyed European vineyards at the beginning of the Twentieth Century.

Le Thadee's production offers an array of eight wines
Montefalco Rosso DOC

38%

38%

Montefalco Grechetto DOC 2018

23%

23%

Montefalco Sagrantino DOCG

16%

16%

Rosso Umbria IGT

13%

13%

Rosato Umbria IGT

6%

6%

Spoleto Trebbiano Spoletino DOC

3%

3%

Sagrantino Passito

1%

1%
Our vineyards geo-localization
Our method
what makes us unique
The passion makes  better wines
Our company follows since its inception the precepts of organic agriculture, making a committed choice to safeguard the final consumer and to be truly environmentally sustainable, using complex techniques falling within a holistic vision of the system environment-vineyard.